HeidiTown Visitor Center
About the Town
Welcome!  Thank you for visiting HeidiTown.com, est. 2007.
Like a lot of things, HeidiTown has evolved over the years, and today it is a brand with a community of engaged citizens who have come to recognize HeidiTown as an authentic and entertaining source of information about Colorado festivals and travel.
Who are HeidiTown citizens? Readers of HeidiTown.com, fans of HeidiTown on Facebook,  Google Plus, Pinterest, Instagram  and HeidiTown Twitter followers.
Of course, citizens with keys to the city are HeidiTown  subscribers.
About the Mayor
My name is Heidi Kerr-Schlaefer, and I'm the Mayor of HeidiTown. I'm also a freelance writer and small business owner.
I've had a bi-monthly travel column in Lydia's Style Magazine for more than four years. You can also find my byline in EnCompass Magazine, MNT Town Magazine, Colorado Life Magazine, Colorado Country Life, Countryside Magazine, 5280 and Independent Traveler, among others.
I have been writing for a small Colorado newspaper since 2006, and I am the winner of multiple Colorado Press Awards.
It's About Truth & Trust
HeidiTown is all about relationships. The trust I've built with readers, advertisers and those engaged in the tourism industry is the foundation on which the brand is built.
HeidiTown is not a calendar of events, but rather it is "stuff the Mayor likes," and I like small town events, unique festivals and traveling around the beautiful state of Colorado. I also love animals, so you will occasionally read about Colorado animal charities here as part of my HeidiTown Gives Back Campaign.
Please note, you can also hear me during the HeidiTown segment on  KRFC 88.9 FM, Fort Collins Community Radio. My segment has been on air since August 2011. Note:  After five years, I decided to end my radio show in early 2016, due to a busy travel schedule.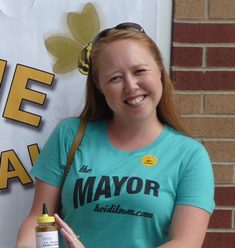 Feel free to contact me at TheMayor@HeidiTown.com.
Advertise with HeidiTown
Want to partner with me on marketing your event, festival or destination? Contact me at TheMayor@HeidiTown.com. I'd love to send you a Press Kit and pricing information.
HeidiTown in the News
HeidiTown has been covered by 9News, the Berthoud Weekly Surveyor, 99.9 The Point and BizWest.
See the 2016 write-up about HeidiTown in Fort Collins Magazine: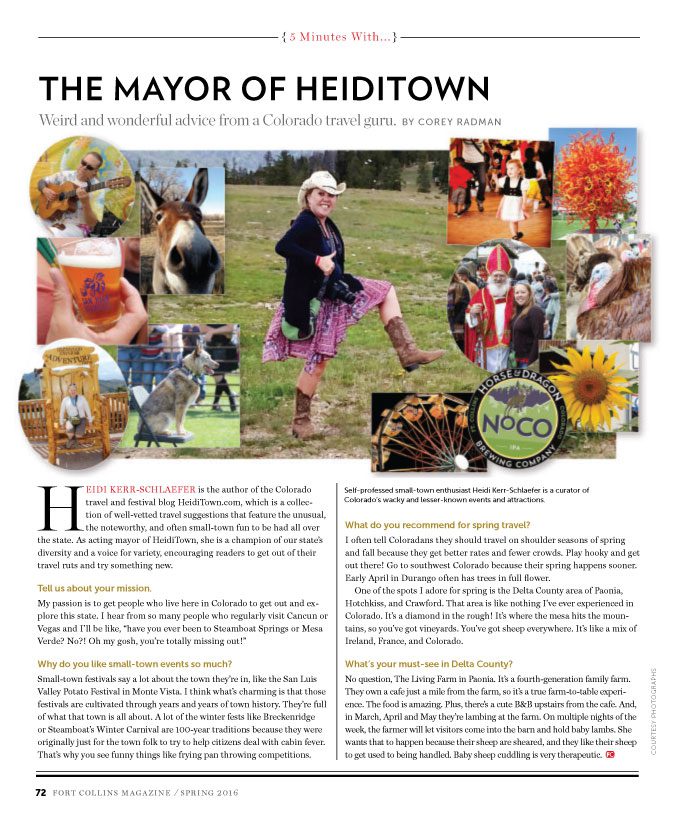 All articles  on  HeidiTown.com are the exclusive property of the Heidi M. Kerr-Schlaefer.   To request permission to republish any  articles or photographs  appearing on  this site,  please contact TheMayor@HeidiTown.com. Thank you!
Save
Save
Save
Save
Save
Save
Save
2 Responses to HeidiTown Visitor Center