I'm assuming that most of my readers have heard of Grand Mesa, but I'm betting that many haven't been there. I hadn't beeen there until this past weekend. We were visiting the Paonia and Hotchkiss area of the state and decided to return home via the Grand Mesa Scenic Byway, a route we'd never taken before.
This byway runs from Cedaredge, across the top of Grand Mesa and down into Skyway near Powderhorn Ski Resort. Grand Mesa is 500 square miles and is the largest flat-topped mountain in the world according to National Geographic. At 11,333 at the highest point, it's tall too.

Stopping briefly for some apple cider at a farm stand in Cederedge, we began to wind our way up the Grand Mesa. We watched with some interest as the temperature outside began to fall from near 90 degrees to 65 degrees by the time we reached the top.
Before we reached the top, however, we pulled into the visitor's center. As we exited our vehicle, the smell of pine trees filled me with nostalgia for childhood camping trips in Northern California.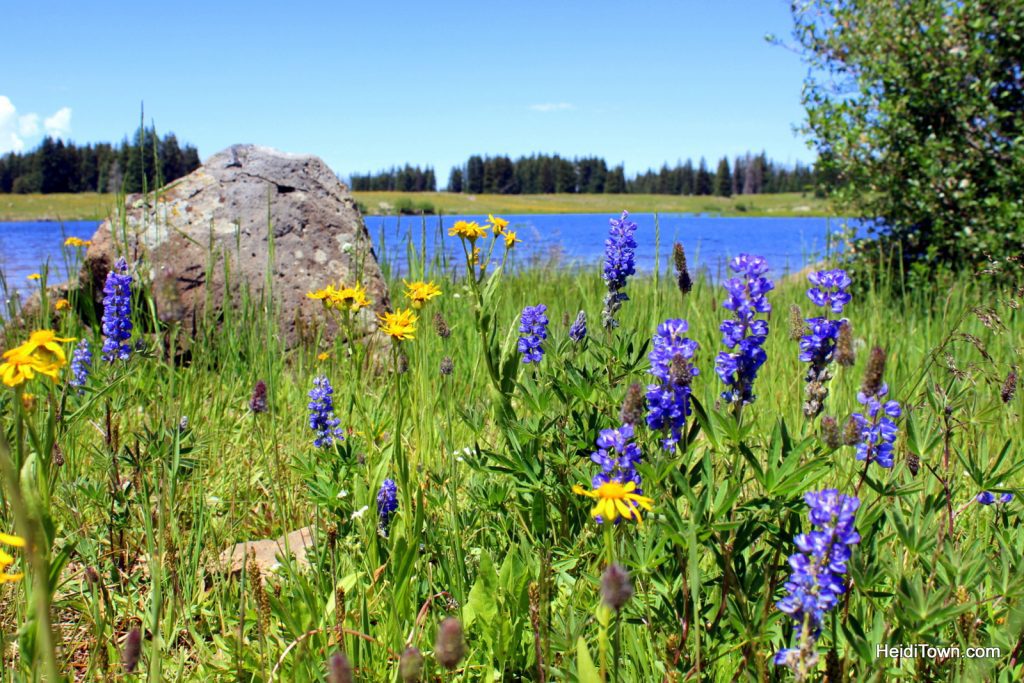 Inside the visitor's center there's a large topgraphical map of the Grand Mesa and we were startled to see that the area is covered in lakes; there are 300 lakes and reservoirs in Grand Mesa National Forest. Several of these lakes are visible from the visitor's center parking lot and as we drove on, there was a deep blue, sparkling lake around nearly every curve in the road.
However, it wasn't the lakes that captivated my attention, it was the abundant wildflowers. We drove by entire fields covered in yellows and orange and then a bit further along there'd be a section carpeted in purple. It was reminiscent of the meadows of flowers I've seen along Trail Ridge Road in Rocky Mountain National Park, but there was a lot less traffic on the Grand Mesa.
Around the edges of one lake where we stopped to take photos, I discovered at least six different variety of wildflowers in about one square foot of space. Here's an online brochure that I found online after my trip that highlights the species of wildflowers growing on the Grand Mesa during mid-summer.
We had time for one detoured off the main highway and decided to check out Land's End. This 10 mile gravel road led us past hillsides brimming with rainbows of flowers, a herd of multicolored cattle and several boggy swamps where we kept our eyes peeled for moose.
We arrived and parked at Land's End Observatory. A building (now boarded up) and overlook that was built by the United State Forest Service and the Works Progress Administration in the late 1930s.
As we approached the viewing area, I was distracted from the sweeping views of western Colorado and eastern Utah by a bevy of super cute, super energetic ground squirrels and chipmunks that were hoping that we'd brought them some snacks. Luckily, I had sunflower seeds in the car.
I'd been feeding the squirrels and chipmunks for a while, giggling as they pitter pattered over my hands and stuffed their little faces with seeds, when Ryan said, "Have you looked at the view yet?"
I hadn't, and I did, and it was amazing, but the highlight of Land's End Observatory for me were the fat-cheeked rodents with their spastic tails and twitching noses.
For more information on the Grand Mesa visit GrandMesa.net. To see all of Colorado's historic and scenic byways, visit here.
A Note from the Mayor: I am well aware that feeding wildlife isn't a good idea. And if you decide to feed these rodents at Land's End, please don't feed them crap like chips and cookies. I like this Grand Junction reporter's sentiment about feeding the squirrels and chipmunks at Land's End.
Save
Save
Save