Where to Watch the Solar Eclipse in Colorado
Have you heard about the upcoming solar eclipse? If not, you may be fairly surprised when the sun disappears behind the moon on August 21, 2017, starting around 10:30 a.m. We won't experience a total eclipse here in Colorado, but we will see a partial eclipse and it will occur over a three hour period.
Here's a cool video of how this partial eclipse will appear in Colorado.
I've made it my mission to find eclipse parties happening in Colorado, and at the time of the writing of this post, there aren't many being advertised online yet so I'll try to update this article as they pop up.
Eclipse Parties in Colorado
Avon, Colorado
The first party that came on my radar is the Solar Eclipse Viewing Party being held at the Westin Riverfront Resort & Spa in Beaver Creek. Ryan and I have stayed at this fantastic property near Vail that features several restaurants, an incredible spa, an enormous pool, lovely salt water hot tubs, and large, comfy suite-style rooms.
The resort is partnering with Walking Mountain Science School, a non-profit science learning center, to offer a free party to the public that includes educational family activities and celestial crafts. The event runs from 10 a.m. to 12 p.m. on the Westin's patio.
The Rocky Mountain Eclipse Getaway (offered August 20-23, 2017) at The Westin Riverfront Resort & Spa includes a studio suite, exclusive access to the resort's educational event with Walking Mountains, solar eclipse viewing glasses and nightly s'mores at the resort's fire pits. Rates start at $179.
Colorado Springs, Colorado
The Total Solar Eclipse Party is being held at the Space Foundation Discovery Center in Colorado Springs, Colorado. It's will be held on August 21 from 9 a.m. to 2 p.m.
This will be an exciting day at the Discovery Center. They will have solar viewing telescopes, tubes and boxes for visitors to use and they will feature live feeds from other eclipse locations around the United States.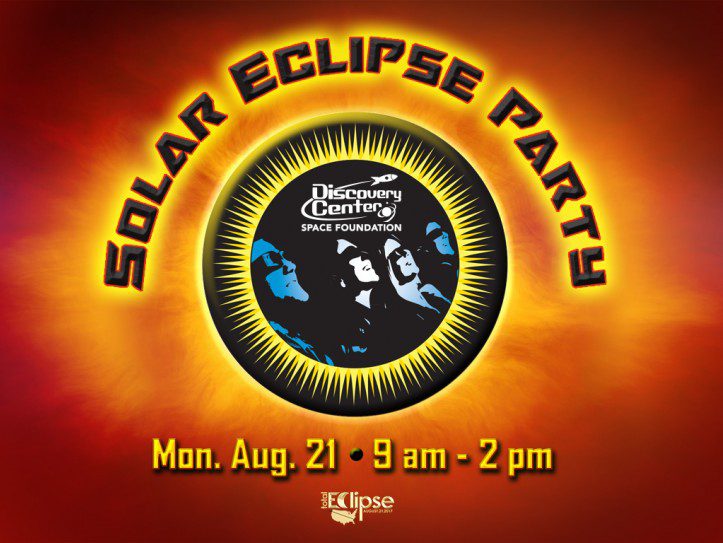 Visitors may purchase solar viewing glasses, while supplies last, for just $3 or two for $5. There will be craft events and a planetarium show in the center's new inflatable planetarium.
This is a once-in-childhood experience for your science-minded children, so if you live in or near the Colorado Springs area, don't miss it.
Visit the Total Solar Eclipse Party online HERE.
Denver, Colorado
The Denver Museum of Nature & Science will start their solar eclipse festivities at 9 a.m. on August 21. The museum will be buzzing with eclipse activities including events scheduled outside on Boettcher Plaza, in the Science Studios, on the south atrium, inside the Space Odyssey exhibit and at the Discovery Zone (the area for young learners ages 5 and under).
A solar-scope viewing will be held on Boettcher Plaza from 9 a.m. to 2 p.m. The museum will be providing safe viewing options for guests in the form of solar eclipse glasses and pinhole viewers. There will even be pop-up food available service outside during the event.
While the eclipse is happening in the sky outside, inside the museum visitors can enjoy stories, kinesthetic activities and crafts related to the eclipse. The eclipse-related activities end at 2 p.m., but the museum will remain open until 5 p.m. Don't miss the Space Odyssey programming that will include eclipse-themed shows throughout the day.
***
See a map of the eclipse in the United States here.
For information on Where to Watch the Eclipse in the West, visit The Heidi Guide at Mountain Living online.
***
I've scoured the internet and even made some calls to find out if more parties are planned and nothing comes up… yet.
I am certain that more parties will pop up and I'll try to keep this list updated. If you know of a party or your organization is putting something together for the public, please leave me a comment here or email me at TheMayor@HeidiTown.com with details. Thank you!
Save
Save
2 Responses to Where to Watch the Solar Eclipse in Colorado