food truck
What comes to mind when you think of Cheyenne, Wyoming? Cowboy hats and big trucks? Trains? Those are all accurate descriptions of Cheyenne. It's a historic train town with a lot of cowboys, cowgirls and big trucks. Today, however, Cheyenne is so much more.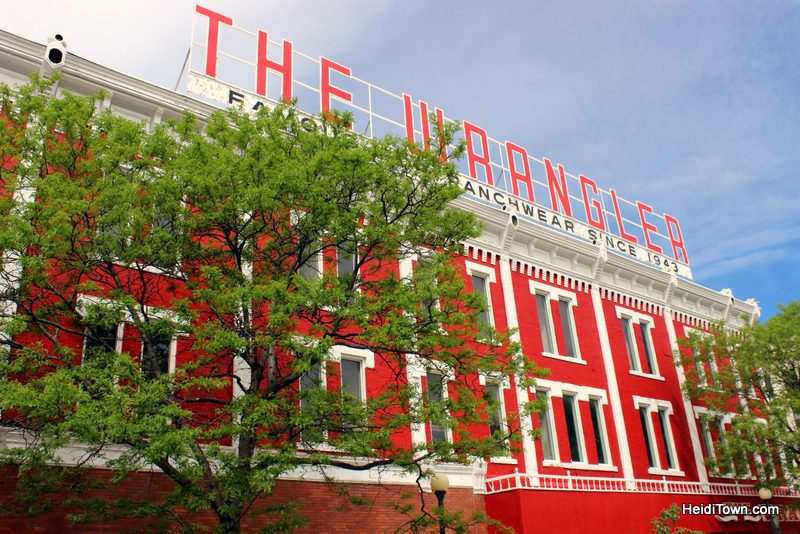 We spent a weekend in Cheyenne earlier this month. We were there to attend the Celtic Festival and Rock the Block, as well as explore a town that we'd only ever passed through.
I'm going to write several posts about this trip, including some of the fun touristy things you can do here like the trolley tour, botanic garden and museums, but in this post, I want to concentrate on some of the surprising things we discovered in Cheyenne.
First of all, did you know that there are three breweries in Cheyenne, Wyoming? True story.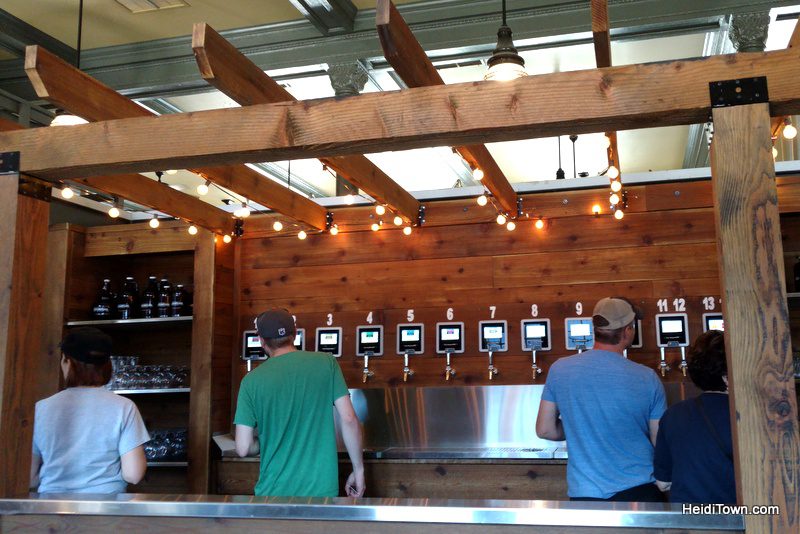 We visited two of the three, stopping first at Accomplice Beer Company where guests pour their own beer. Yes, you read that right. Accomplice has self-pour taps, and they have a lot of them. After a brief explanation of how it works from the bartender, we were off. They use an electronic card system to track how much you pour, so you can't drink here all day long.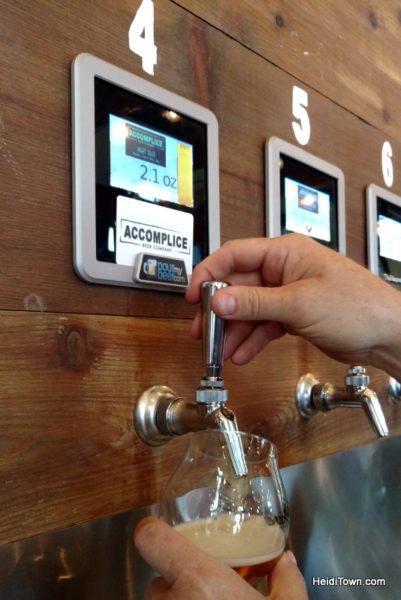 We also got lunch at this brewpub, sliders for Ryan and chicken tenders for me. The tenders were some of the best I've had, although the ranch dressing could be a bit thicker. While it's a bit gimmicky, Accomplice is centrally located in the famous depot building and a must-visit when in Cheyenne.
Freedom's Edge Brewing Co. is just a couple blocks from Cheyenne's downtown plaza. They have a traditional taproom with a nice contemporary feel and really good beer. We'll definitely be back to Freedom's Edge on our next visit to Cheyenne.
We didn't make it to Danielmark's Brewing Co. on E. 18th Street, but this is Cheyenne's newest brewery and is located in a renovated historic home. They have an outdoor patio and feature food trucks.
And speaking of food trucks, there's a delightful pizza place in Cheyenne that got its start as a food truck. Bella Fuoco Wood Fire Pizza gets top marks from both Ryan and I, and we recommend the jalapeno popper and the NY Blue. Just thinking about these pizzas makes my mouth water.
Everyone knows about the Wrangler (Boot Barn) in Cheyenne, and I did purchase a hat there while I was in town, but we found a real gem of a shop next to Freedom's Edge Brewery.
Mid Mod Etc. is a terrific store that's worth the drive if you love mid modern clothing, furniture, decor and even cars. You can track their inventory by following their Facebook page. And here's the best part, their prices beat anything you'll find at the mid-modern stores in Denver.
Ryan was excited to discover two stores selling vinyl in Cheyenne. There's Ernie November and Phoenix Books & Music.
In addition, Ryan was overjoyed to discover that Cheyenne has an arcade bar. Located in downtown, Flippers Family Arcade is good for families, but also fun for adults because not only do they have a large selection of arcade games and pinball, they have a bar serving beer and wine. It's a great place to kill an hour or two.
As some of you know, I'm a coffee snob, so I was delighted to discover Paramount Cafe in Cheyenne. This trendy coffee shop under The Second Floor, a coworking space, serves up a quality cup of Joe.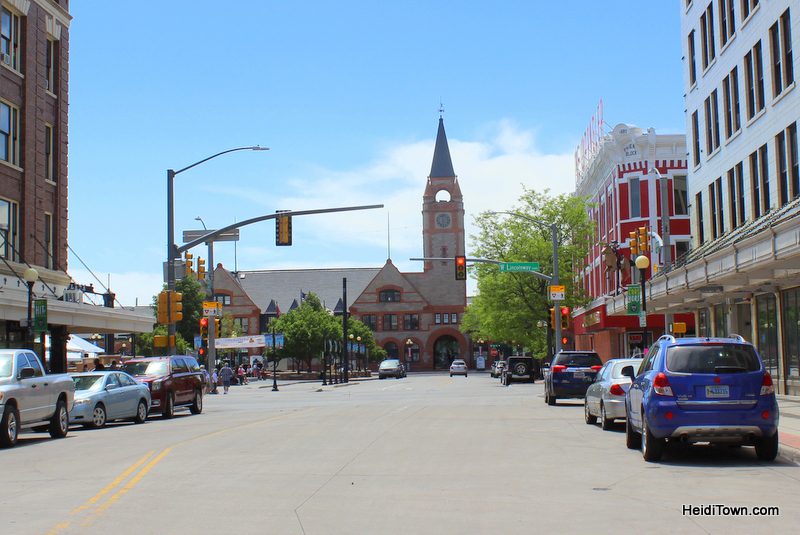 So there you have it — did you know Cheyenne was so hip and happening? I didn't. Keep an eye on HeidiTown.com for more posts about where we stayed and what we did in Cheyenne, Wyoming.
Thank you to Visit Cheyenne for hosting us on this trip.
Save
If you like craft beer and food, you won't want to miss Front Range Rally, one of Northern Colorado's biggest and best beer festivals. I've been attending this event for a number of years and it's one of our favorite Colorado beer festivals. 
The nitty gritty details
There are currently 44 breweries signed up to attend Front Range Rally in Loveland, Colorado. There are also nine vendors featuring other beverages such as cider, mead and spirits.
Most of Loveland's local breweries will be in attendance, as well as a few Denver and out-of-state breweries including Melvin Brewing out of Jackson, Wyoming, who won a GABF gold medal for their IPA.
This event also features ten food trucks with offerings varying from barbecue to pizza to cheese curds and deviled eggs. Please note that food is not included in the price of your ticket and must be purchased separately.
I recently indulged in the deviled eggs from Yolk'n Around and I can tell you that they are delicious. I recommend the bacon/avocado. I also love, love, love the bacon wrapped jalapenos from Bedrock BBQ (you'd better bring them, Lance!), and you can never go wrong with wings from the Wing Shack.
In addition to the beer and food, Front Range Rally always welcomes great musicians to their festival stage.
It's good to be a VIP at Front Range Rally
Tap & Handle is catering the VIP section at Front Range Rally this year and they will provide four beer and food pairings. This means that while general admission tickets do not come with food, VIPs tickets do.
VIPs also get an hour extra at the festival (early entry at 1:30), access to the VIP Lounge which features exclusive beer varieties, complimentary hors d'oeuvres, shaded seating and my favorite, access to a private VIP only restroom.
I believe that splurging for VIP tickets at this festivals is well worth it. Plus, your money goes to a good cause.
Drink for a good cause
One hundred percent of the net proceeds from Front Range Rally go to the Food Bank for Larimer County. That's right folks, this event, which takes a small army to organize and produce – is entirely run by volunteers.
The Food Bank for Larimer County distributed 9.2 million pounds of food in 2016 to low-income residents throughout the county.
By buying a ticket to Front Range Rally, you are helping support this great, local nonprofit.
Front Range Rally
May 20, 2017
2:30 to 7 p.m. (GA) / 1:30 to 7 p.m. (VIP)
2600 N. Lincoln Avenue in Loveland, Colorado
General Admission $40 / VIP $65 / DD $10
Join Front Range Rally on Facebook
Follow Front Range Rally on Twitter
#FrontRangeRally
***
Featured Festivals spots on HeidiTown are paid advertisements. If you'd like to have your festival or event considered for a feature contact TheMayor@HeidiTown.com. Learn more about marketing with HeidiTown here. Thank you!