Made in the USA
In the weeks leading up to Christmas I always put out a top 5 list of some sort, and this year I decided to share with you my picks for the top 5 made in Colorado gifts for 2012. The prerequisite for making my list was that the product made by each company had to be manufactured IN Colorado.
This list is in no particular order.
1. MouCo Cheese Co. I've had the pleasure of touring MouCo and writing about them for several other publications over the years. They just so happen to make my favorite cheese of all-time, Truffello, which is saying a lot because I've never met a cheese I didn't like. Their website describes Truffello as a "mystical soft cheese to be savored and shared with reck-licious ease." MouCo sells their cheese all over the world, but it's all made in their small factory in Fort Collins, Colorado with milk from local cows.
Website: MouCo.com
2. OZ Snowboards. I don't ride, but if I did I'd ride an OZ board. I ran into these guys on Facebook and fell in love with their concept and the beauty of their boards. They make these works of art in Evergreen, Colorado.
Website: OZSnowboards.com
3. Moonflower Essentials. This small company is located in Denver, and they make my favorite lotion, Forest Muse. I've known owner, Barb Donnelly, for a number of years, and she's a creative lady with a talent for making body products that truly impress. Moonflower Essentials has a Holiday Open House planned for Sunday, December 9. Learn more here.
Website: MoonFlowerEssentials.com
4. NeedleForge.com. This company was brought to my attention by a HeidiTown citizen and I couldn't resist putting them on this list. I don't know exactly how to explain what it is they make, but my Facebook tipster put it like this: Geekery + yarn = win. Every yarn creation is made by hand in Denver, but if you want something by this Christmas you'd better get your order in real soon, because according to their Facebook page, orders are stacking up and they only have so many hands to do the knitting!
Website: NeedleForge.com
5. Nova Monda Cacao & Chocolate. I have not had the pleasure of trying this chocolate yet, but it made my list because it's made in Lafayette, Colorado and it was highly recommended to me by two people; the Chef at the Welsh Rabbit Cheese Shop and a trustworthy friend with good taste.
Website: NovaChocolate.com
This could have easily been a top 50 list, as there are many wonderful Colorado companies and craftsmen I would have enjoyed highlighting in this piece. If you have a favorite please feel free to share it in the comment section.
Please Note: A lot of Facebook friends helped me with this list by sharing their favorite Colorado companies and I've compiled a list of all their suggestions in a NOTE on the HeidiTown Facebook page. Click HERE to see it!
***
I encourage you to shop local this year, as much as possible. Spending your hard earned money at a small Colorado-owned business will ensure that all boats rise.  
It's Buy Local Week here in Colorado, and around the country. There are so many reasons why it's good to buy local, and according to ColoradoLocalFirst.com, there are five main reasons.
1. Environment By buying things closer to home you are cutting down on fossil fuel use, reducing your carbon impact AND saving money!
2. Local Economy Local businesses buy more often from other local businesses, so the money you spend is retained in the community in a more concentrated fashion.
3. Local Flavor The experience at a local establishment is unique – providing the local flavor of the area.
4. Community Care Local entrepreneurs are more connected to our community, because they live here, too! They are more likely to get involved in community efforts and activities.
5. Voicing Your Opinion By buying locally you are saying, "Hey, I like this business and the neighborhood wouldn't be the same without it."
So without further ado, to celebrate Buy Local Week here on HeidiTown, I've joined forces with a local Colorado company, LoyalTee, a Denver-based t-shirt company. LoyalTee is a collection of shirts featuring local landmarks, like Johnson's Corner, Stadium Inn, and Duranglers Fly Fishing, to name a few.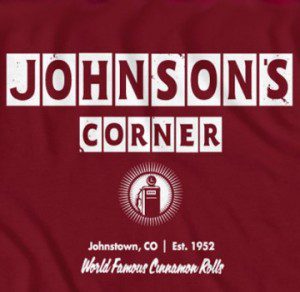 All LoyalTee shirts are made in the USA, and a percentage of all sales goes to the business feature on the shirt. I absolutely love this company and their concept, so I was very happy when they decided to be a part of a HeidiTown contest.
In addition to getting a $23 gift certificate and free shipping to LoyalTee, the lucky winner of this contest will also get a HeidiTown t-shirt!
Just leave me a comment  telling me your favorite Colorado landmark and you'll be entered. As usually, I will pick the winner (at random) on Friday afternoon, Dec. 2, 2011, at approximately 3 p.m.
It's hard for me to pick just one favorite Colorado landmark, but today I think I'll go with the Bucksnort Saloon.   I love that the Bucksnort is located up a long dirt road. I love their un-level floors, and I especially love their forest fire burger with jalapenos and cream cheese.
Good luck!
~ Contest Closed ~